Sustainability
We are a small business striving to make a change. We value fair trade and sustainable development: prioritising the best materials, dignified working conditions for those who make your clothes, and minimising environmental impact.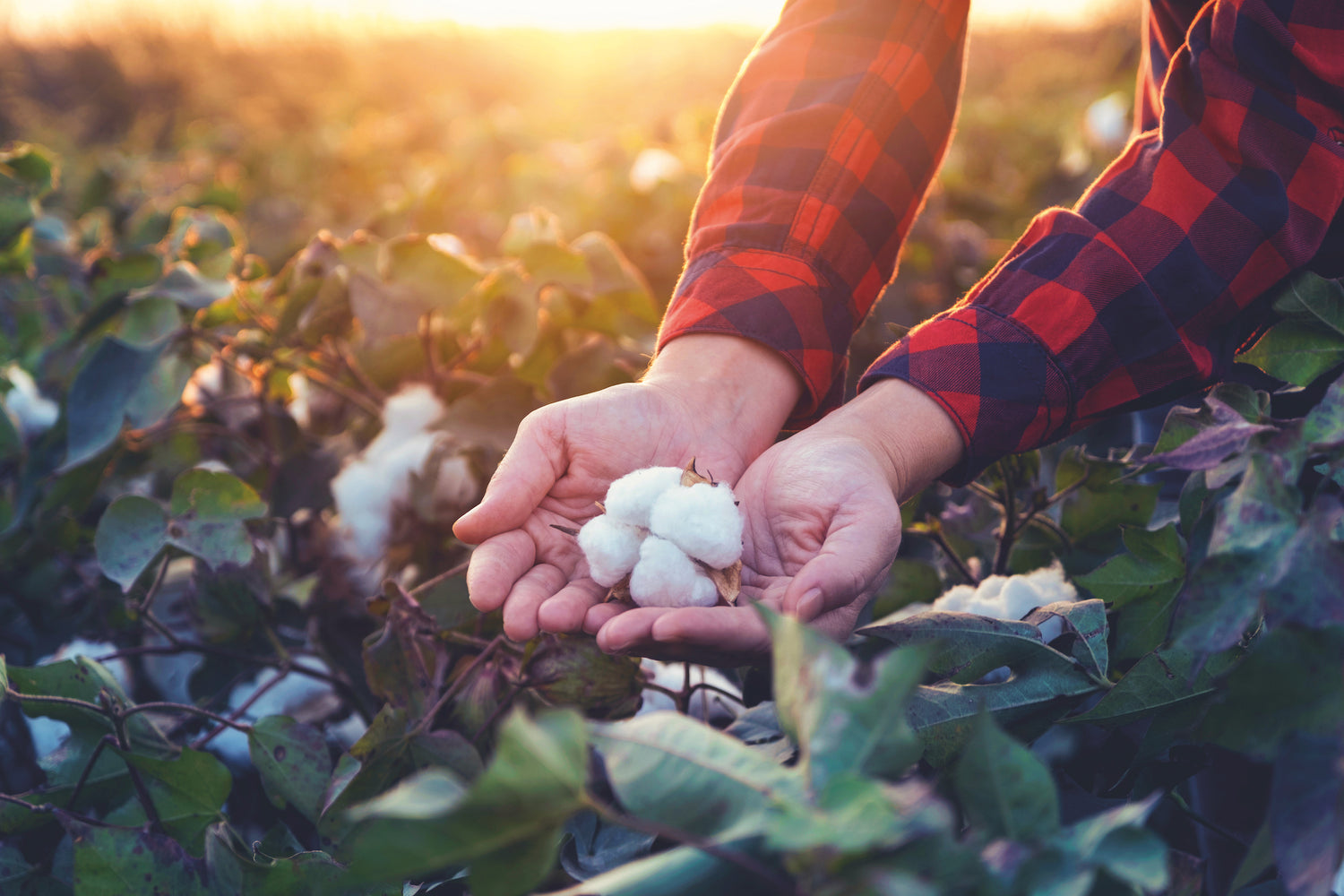 Materials
Organic Cotton
Organic cotton uses less water and does not involve the use of chemicals. Organic farming uses natural methods, such as crop rotation, which benefit not only the soil but create biodiversity and promote good health and quality of life for animals, farmers and their communities.
Recycled Plastic Bottles
Discarded plastic bottles are crushed, cleaned and made into polyester chips, which are melted and spun into yarn. This saves considerable energy in the manufacturing process, reducing environmental impact and saving plastic bottles from entering the ocean or landfill.
Recycled Cotton
Regenerated cotton is derived from fabric waste from the cutting room, which normally ends up in landfill. It is re-spun and knitted into new garments. It reduces the land mass needed to grow new cotton, saves water usage and reduces the use of dyes and chemicals.
Process
We design and print every single item by hand in our small studio on the Yorkshire Coast.
We only print what we need when we need it, which keeps costs down, reduces waste and makes space for new colours and designs regularly.
Screenprinting by hand means less environmental impact due to using no electricity. It is one of the oldest forms of printing, yet it still produces the best quality prints available today. 
Ink is pushed through a mesh stencil, allowing it to sink into the garment, producing a flat and smooth finish. We only use waterbased Soil Association approved inks, which are vegan, non-toxic and plastic-free. Other companies may use cheaper mass-producing techniques that involve solvents and plastics.
Initiatives
Positive Environmental Impact
We care deeply about the planet and creating a business that gives back to nature. That's why we've partnered with Greenspark to ensure that our business makes a positive environmental impact with every sale we make.
Recyclable Packaging
We dispatch all orders in 100% eco-friendly packaging. From cardboard and recyclable mailing bags to tissue paper and paper tape. All of it is organic, ethical, sustainable and reusable with not a single piece of plastic in sight.
Enduring Quality 
The quest for enduring quality is behind everything we do. We encourage you to care for our products and use them for as long as possible. We don't dispose of products, not even when prints go wrong. Instead, we sell them at our festival shop as seconds or give them to charity.